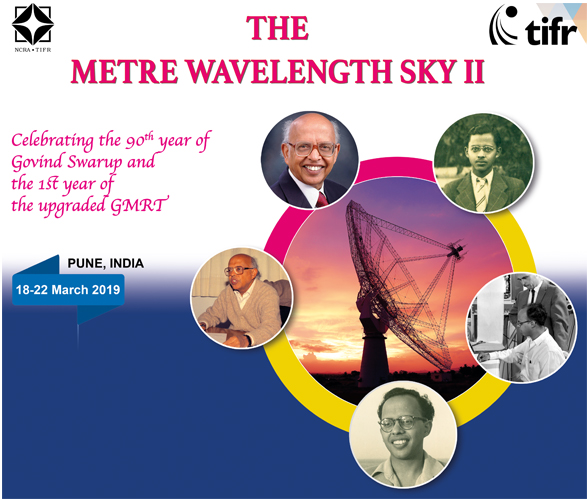 The Giant Metrewave Radio Telescope (GMRT) has recently undergone a major upgrade (the "uGMRT'' project) that has significantly improved its scientific capabilities, opening up a wide range of interesting science areas to the radio community. The first uGMRT results are now beginning to appear and the uGMRT will be formally opened in 2019. March 2019 will also mark the 90th birthday of Govind Swarup, who conceived of, and led, the original GMRT project. To celebrate both of these events, the National Centre for Radio Astrophysics of the Tata Institute of Fundamental Research (NCRA-TIFR) will host an international conference on radio astronomy in Pune, India, over 18-22 March 2019.
There will be regular scientific talks and posters on four days, 18, 19, 20 and 22 March. March 21 will be a half-day session, beginning in the afternoon and focussed on low-frequency radio astronomy, the upgraded GMRT, and the contributions of Govind Swarup to the field. This will be followed by the conference dinner.
Please use #mwsky2 for all conference related posts.